TOUCH
Premiere for NHS Festival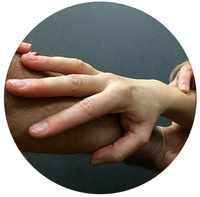 National Theatre Wales celebrate the NHS' 70th birthday in July 2018 with a month-long festival inspired by the staff and patients of this unique institution : NHS70 festival.

National Theatre Wales associated to Migrations invited Julie Nioche (choreograph & osteopath), Tal Dans's artists Filiz Sizanli and Mustafa Kaplan and the musician Alexandre Meyer (all collaborating in the piece RITUAL FOR A SENSITIVE GEOGRAHY - 2018) to create a performance based on their practices crossing the testimonies of NHS staff members and patients

"An intriguing mixture of installation, performance and audience connection..
Utilising a minimalistic set consisting of a large piece of paper covering a wall and stage, TOUCH is an invitation for people to connect through words. As the performers create a network of evocative words, the bare space is slowly transformed. The audience are invited to respond in turn with their own words, creating a unique piece of work for each performance. 
Interactive and contemplative,  TOUCH will explore the importance of physical touch as part of patient's care and treatment and the complex interconnecting networks of people surrounding someone's journey from trauma to recovery.
Touch is being created by a powerhouse of international, national and local artists and organisations; National Theatre Wales, Llanrwst-based Migrations, French musician Alexandre Meyer and choreographer and dancer Julie Nioche, choreographers Filiz Sizanli and Mustafa Kaplan from Turkey, and a cast of dancers including Laura Dannequin, Angharad Harrop, Cai Tomos and Simon Whitehead."

More infos : https://www.nationaltheatrewales.org/ntw_shows/nhs70-touch/