Performances
for all
Sharing some creation process
The performative projects initiated by A.I.M.E. are for all audiences, even those who do not incorporate a physical practice in their everyday lives. 
As part of a process of "workshop- rehearsals," customized and adapted to each individual context, these projects seek above all to validate each individual's capabilities: resistance, coming together, poetry, adaptability, dreaming, commitment, affirming, autonomy ...
We welcome students, seniors, patients, teachers, detainees, entire staffs ... interested in experimenting with these propositions, which can lead to their becoming the protagonists in these public performative actions.
Sometimes as an accompaniment to her creations, sometimes conceived for a particular group, Julie Nioche offers in her projects the creative act as a connection between art and society.
Les Sisyphe - Collective Performances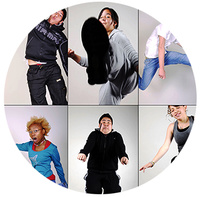 Poetic demontrations by groups who followed woskhops betwenne danse and body treatment
"After having created the project La Sisyphe, I realized that it convened a state of claim lived by each one at various times of their lifes. This «rage» is able to push us to make acts which have of another direction only to express this state. 
Through a workshop built in collaboration with the physiotherapist Gabrielle Mallet, I propose with groups of people to divide their «inmost claims», so inexpressible, the time to make a performance of it together.
Without being professional dancers or accustomed to a regular practice of the dance, the group solitarily tries out exhaustion.
Les Sisyphe performance is a modulation of jumps at the time when, each participant is invited has to exceed his own limits.
All give up a certain control, and enable us to see their instinctive readjustments."
Julie Nioche
The workshop Les Sisyphe (5 times of 4 hours) is the time of development of the performance. This workshop between practice of dance and body treatment works the training by the feelings.  
The jump works the limits of the body in its exhaustion and the massage approaches the limits of the body in its envelope. The place of the massage in the accompaniment of the performers is initially a space to be well, of attention and listening, protection, maintenance, prevention and improvement of the aptitudes.
. / . More information on Les Sisyphe (team, tour, video, photos,) here.
Women's matter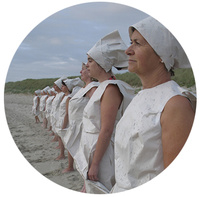 Performance avec 17 femmes face à la mer - 2008
En septembre 2008, à l'invitation du Festival "À domicile", Julie Nioche a répondu par une nouvelle adaptation in situ de son processus de création alors en cours "Matter".

Une ligne de femmes fait face au large.

Cette étape du projet nomade "Matter" s'est développée le temps d'une résidence de 2 semaines chez l'habitant.
Julie Nioche a proposé aux femmes de Guisseny (Bretagne) de partager ses connaissances de danse et d'ostéopathie lors d'une rencontre individuelle. Ce travail de prise de conscience corporelle par le toucher pour ces femmes, ainsi qu'une collaboration avec une association de Guisseny à la fabrication des robes en papier faisant écho aux costumes traditionnels, ont été l'introduction à la réalisation de la performance "Women's matter".
. / . En savoir plus sur Women's matter (équipe, photos, vidéos) ici