TOUCH
Création pour le NHS70 festival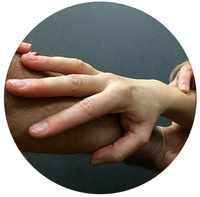 Une commande du National Theatre Wales en collaboration avec Migrations / Karine Decorne - juillet 2018
Le NHS70 festival célèbre les 70 ans du système de santé en oeuvre au Pays de Galles.
Le festival a passé commande aux créateurs de RITUEL POUR UNE GEOGRAPHIE DU SENSIBLE d'une performance au croisement de leurs pratiques (chorégraphie, pratiques somatiques, musique) et des témoignages de professionnels et patients du NHS.
Ils créent TOUCH au cours d'une résidence d'une semaine avec une équipe de danseurs professionnels locaux : Laura Dannequin, Angharad Harrop, Cai Tomos et Simon Whitehead. 
Représentations les 27 et 28 juillet 2018 au Pontio de la Bangor University.
"Utilising a minimalistic set consisting of a large piece of paper covering a wall and stage, Touch is an invitation for people to connect through words. As the performers create a network of evocative words, the bare space is slowly transformed. The audience are invited to respond in turn with their own words, creating a unique piece of work for each performance.
Interactive and contemplative, Touch will explore the importance of physical touch as part of patient's care and treatment and the complex interconnecting networks of people surrounding someone's journey from trauma to recovery."
Plus d'infos : https://www.nationaltheatrewales.org/ntw_shows/nhs70-touch/